كليوباترا

ملكه المنتدى


رقم عضويتك

: 1

---

عدد المساهمات

: 84033

---

الاوسمه

:


العمل/الترفيه

: طبيبه اسنان

all about Using Credit and Debit Cards Safely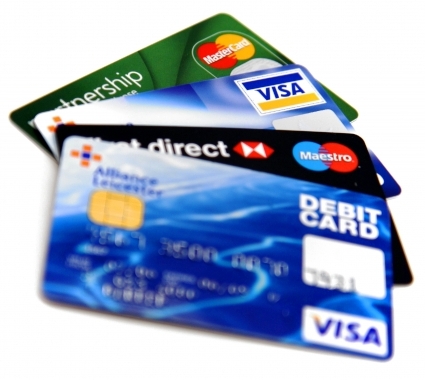 Definition: Debit cards are similar to credit cards, except debit cards pull money out of your checking or brokerage account. Debit cards do not create or increase a loan like credit cards do.
Where to Use Debit Cards
You can use debit cards very much like a plain old credit card. Many retailers will allow you to use a debit card at checkout just like a credit card. You just swipe it and you're done. However, sometimes you have to let the retailer know you're using a debit card.
You can choose to have your purchase processed as a "debit" or "credit" transaction. To see which is best, read Should You Choose Debit or Credit?.
Debit Cards and the ATM
For some people, the main reason to have a debit card is to use it at an ATM. For a while, banks issued "ATM Cards" which were only useful if you were standing in front of an ATM trying to take out cash. Eventually, banks started to add more features so that a debit card can now be used at almost any location.
Debit Cards and Bad Credit
For those with bad credit, debit cards are a very useful tool. You can function as if you had a credit card, meaning you don't have to carry cash around with you. However, because a debit card pulls against money in the bank, you can typically qualify for one if your credit has some blemishes. However, they don't help you build credit.
Debit Cards and Kids
Debit cards can be a good tool for helping children understand how credit cards work. Most important lesson: debit cards have a limit that you have to manage. Credit cards also have limits, but they tend to be more flexible than debit card limits.
Debit Card Conclusion
Debit cards are a handy day-to-day tool.
A generation ago, it wasn't all that unusual to be out for dinner with friends or at the register with a cart full of groceries and realize you didn't have enough cash to cover the bill. But today, you're likely to pull out a debit or credit card and not think anything of it.
Your Money Guides
Credit and Debit Cards »
It's hard now to imagine a time when those noncash options weren't available — especially if you were born in the 1970s or later. Credit cards have been around since the 1950s, and debit cards were introduced in the mid-1970s. By 2006, there were 984 million bank-issued Visa and MasterCard credit and debit cards in the United States alone.
Though the two types of cards may be used interchangeably, there are notable differences between them. Let's start with debit cards.
Debit cards are linked to your bank account so the money you spend is automatically deducted from your account. They provide a convenient alternative to cash, especially if you do a lot of shopping online. Debit cards can also help you budget. Use your card to pay your bills and day-to-day expenses and your monthly statement will provide a good snapshot of how much you spend per month and where it's going. There's another benefit as well: Unlike credit cards, your bank balance goes down with each debit card transaction, so you're less likely to overspend. (Many banks offer "overdraft protection" that allows you to exceed your balance. But you'll end up paying interest, and maybe extra fees, on the money you borrow from your overdraft account.)
With so many benefits to the debit card, why use a credit card at all? There are three main reasons: You can spend more than you have — or postpone paying, at least — and you typically get better rewards and better protection than you do with debit cards.
Credit cards basically allow you to use someone else's money (the card issuer's) to make a purchase while you pay the money back later. If you do so within the billing period — generally, 15 to 45 days — you can avoid paying any interest on it. The problem arises, of course, when you don't pay the balance in full and are charged interest as well. That can quickly add up. If it takes you two years to pay off a $500 balance, for example, and you're being charged 18 percent interest, you'll end up paying nearly $100 more in interest.
If you use them responsibly though, credit cards can offer other advantages. They help build your credit, as long as you pay your bills on time. Some also offer rewards that you can use to get gifts, cash back or discounts for products, services and special events. They also provide more protection if someone steals your card or bank information. If you notice a fraudulent charge on your credit card account, you can call the card issuer, make a dispute claim, and the charge should be removed from your balance. But if thieves steal your debit card information and use it, it may take weeks for the bank to investigate your claim and replace the lost funds. In the meantime, you may have to deal with a dwindling bank balance or bounced checks.
Federal law also protects you if you need to dispute charges on a credit card, but not if you use a debit card or other forms of payment. If you paid cash or used a debit card, the retailer already has your money. So you have a lot less leverage, and there's no guarantee you'll get that money back. But if you pay for something with your credit card and aren't happy with the purchase, your card issuer can legally withhold payment from the retailer until they resolve the dispute, and you won't be charged.
Let's say you've decided you want a credit card, which one should you get? The answer depends largely on whether you plan to pay off the balance each month.
If you know you'll probably carry a balance, look for a plain-vanilla card with no annual fee and the lowest annual interest rate available. (Any interest you pay on a carry-over balance will offset any perks you could get through a rewards card.) You can compare several low-interest credit cards at creditcards.com and bankrate.com, which both provide updated information on dozens of different cards. You can also apply online for cards through either site, but limit your applications to one or two to avoid hurting your credit.
Be aware that card issuers can raise your interest rate after you've gotten the card. So check your monthly statements. (You should be aware, though, that the Federal Reserve has just passed rules that will take effect in mid-2010 limiting the card issuers' ability to raise your rate, unless you're late with a payment.)
Call the card issuer if your rate has increased to try and negotiate a lower rate, or consider transferring your balance to a lower-interest card. (Billshrink.com lets you see how much more you could earn in rewards or save with a lower interest rate if you switched to various other credit cards, based on your credit score and how much you spend each year.)
If you plan to pay your bill in full each month, seek out a card that provides rewards you actually want — whether that's cash back, frequent flier miles or points redeemable for gifts. The interest rate shouldn't matter, since you won't be carrying a balance. But look for those with no annual fee. Bankrate.com and creditcards.com also provide comparisons of cards by the types of rewards offered, among other criteria. Generally speaking, if you plan to use your card a lot, cash-back programs may be the best bet. It's easy to get the refund — either through a check or a credit on your account — and you can use that money for anything. Many large banks also offer debit cards with rewards, so it can be worth shopping around for them too. Creditcards.com also provides a comparison of different prepaid and debit cards, based on annual fees, related services and credit requirements.
For most people, using both a debit card and credit card makes sense. The key is not to spend more than you have with either. If you can do that, you'll be able to enjoy the benefits that each provide.
In this fast moving and technologically advancing society we live in it is becoming more and more common place for the use of credit and debit cards as opposed to cheques and cash.
The idea of credit and debit cards is so that we – as consumers – do not have to carry large sums of money about our person when we go shopping. This reduces the chances of us being robbed, mugged or even losing the money we are in possession of.
It also reduces the risk of old fashioned cheque fraud. The number of retailers now accepting cheques on the high street is dwindling and it is expected that within the next two to three years cheques will be obsolete altogether.
Using Your Credit Card
For many of us credit cards have two distinct advantages – one they allow us to purchase goods and services both on the high street and on the Internet and two, they allow us to do so using credit facilities that we might not be able to draw upon otherwise.
Credit cards are used as a means to make purchases which we may not have the money to make just at that time with the opportunity to pay the money back at the end of the month or over a designated period of time using regular payments set up as direct debits or standing orders.
Using a credit card in a high street store is a simple process which now involves the use of so-called Chip and PIN. The Chip and PIN function – also used for debit cards – requires the keying in of a four digit number that activates the card and allows the transaction to take place providing sufficient funds are available.
It is taken as read that the individual who is in possession of the credit card is the card's owner as only he or she should have knowledge of the four digit PIN (Personal Identification Number).
However shop owners and those working behind the counter are obliged to check the name on the card to insure that it is valid. I.E.: if the card name is female, is the individual using the card female?
Using Your Debit Card
Using your debit card is much the same as using your credit card but with one fundamental difference - you can only make purchases if your bank or building society account has sufficient funds in it at the time of purchase. Basically a debit card is another way of paying for items using cash without having cash to hand.
It is worth noting however that some high street retailers may take the details of your card and allow the purchase to go through but it can take several days for the transaction to show on your account. This is particularly so with building societies who operate their accounting systems in a slightly different manner to banks.
If you are using your debit card for purchases online or on the high street and you have access to online banking you should check to see if the purchases have registered or – at the very least – that your available balance has changed.
Using Credit or Debit Cards Online
Most online retailers will accept either card except some American sites that accept most credit cards but will decline a debit card if it is not on their preferred list. If you are using your card online you should first ensure that the site you are going to use has a credible reputation and also a guarantee facility in place. This means that if there is an issue with the purchase that you can contact the company directly and request a refund.
In addition it is recommended that you do not use your card on a computer that you are unsure of. For example never use your credit or debit card to make a purchase on the computer of an Internet café as these are likely to be used by many individuals throughout the course of a day and details may be stored after you have gone.
Whichever computer you use make sure that it has anti-virus and Spyware software installed to combat the chances of any outside intrusion which could result in the illegal collection of your details.
Alternatively if you are using your credit or debit card in a high street store or indeed to withdraw cash from an ATM (Automatic Teller Machine) make sure that there is sufficient space between you and the person behind you. This reduces the risk of so-called 'Shoulder Surfing'. You will find also that any counter staff in stores and shops are required to look away when you input your PIN (Personal Identification Number).
queennana83

اميره حيويه


رقم عضويتك

: 9532

---

عدد المساهمات

: 130

---

الاوسمه

:

thanks for that great effort
كليوباترا

ملكه المنتدى


رقم عضويتك

: 1

---

عدد المساهمات

: 84033

---

الاوسمه

:


العمل/الترفيه

: طبيبه اسنان

ميرسي يا قمر انتم منورنى يارب اقدر افيدكم علطول
صلاحيات هذا المنتدى:
لاتستطيع
الرد على المواضيع في هذا المنتدى