كليوباترا

ملكه المنتدى


رقم عضويتك

: 1

---

عدد المساهمات

: 84033

---

الاوسمه

:


العمل/الترفيه

: طبيبه اسنان

Learn what the other women are doing to steal your man!

you must know what they do to stop them.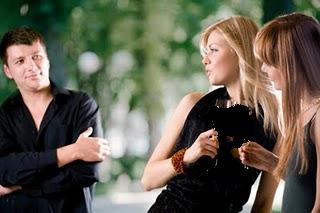 Here are the secrets for using your flirting body language to[right] capture the attention of the man YOU want. There are five (5) steps that will give you the advantage over all your competition for getting the best man available. Even if you are not presently interested in attracting a man -- because you already have one -- better read this anyway. Learn what the other women are doing to steal your man!
step 1
Set the Bait Out and Get Attention
The first thing you must do is set the bait out. So find somewhere to sit where you can see all the men - and where they can see you. Spend the first few moments getting organized, or so it seems. What you are really doing is ensuring that the men notice you. You do this by MOVING with your special body language!
Flirting Step 1 is all about getting attention with body language in order to attract men over for your closer evaluation.
Your body language movements should be always smooth, graceful, and feminine. Move slowly and confidently, like the place and the guys are all there just to watch you. Arrange your possessions, straighten your clothes, swish or stroke your hair to get it 'just right'. Each move should signal that you are a healthy woman who is alive, active, and very proud to be very feminine. That is what will get all the guys' attention immediately! They all will be watching your body language -- even if they are with another woman. Guys can't help looking because they are all ancient hunters.
Men watching you do your attention-getting feminine activities will actually increase their 'hunting and mating' hormones. Men are hunters and they love the feeling of capturing the prize -- be it wild game or a woman. Research with fMRI brain scans show good feeling activity in men's brain 'reward area' when they think about hunting and capturing the prize, winning at gambling, or doing all those good-feeling things to a woman like you. And it takes them only a few milliseconds to rapidly scan through the dozens of good feeling things they can do to you! That produces a fantastically good feeling in the reward area of their brain, all in a second or two after only a quick sight of you doing your feminine body language.
Some background information on women's body language:
Men are much more visual than women and get a hormonal surge just by looking at a healthy woman -- either alive or in a photo. That is why pornography prospers as a man's target market. So smart women use many visual body language cues to attract attention with their bodies. And the things that gets the guys' immediate attention deal with sexuality! Women send five times as many sexual body language signals as men do in the same time period. This does not mean women are more interested in the subject than men. Smart women just know what gets a man's attention fastest!
Hair flipping, swishing, combing and general preening plus a smile are the number one flirting feminine body language cues a woman uses to make men get excited. Other very effective feminine body language tactics are walking with exaggerated roll of her hips, relaxed swinging arms, chest out, and head held high with soft smile. Also she can tilt head coyly revealing her soft neck, lick lips, wear sexy clothes and jewelry, plus expose her soft skin on shoulders, upper arms, and back (and anywhere else socially acceptable). Men love to see a woman's skin! Clean, clear, and smooth skin is a sign of good health and that is high on men's desired traits in a mate to produce healthy offspring. So let the men know you are a healthy woman and proud of it! Women have used body language to attract males for millions of past generations. These women's body language tools are all "man magnets" that you also can use for flirting -- or to keep your present man fascinated with you!
So now watch for a guy who has placed himself where he can see all the women. Definitely he is a 'hunter' in search of a mate. He is going to be watching for any woman with body language indicating it is OK for him to approach her. He holds great fear of being rejected so he must be careful in picking the right woman who appears available and safe to approach. He also wants to appear as a 'great hunter', therefore he will not 'hit on' women who appear generally undesirable to other men. So don't dress and look 'cheap' when you are out to meet men. Every hunter wants to bring home a trophy. Dress and act like you are a trophy that every man can be proud of.
Keep Active.
Your goal is to look your healthy feminine 'best' and get noticed. Make sure you are seen. Keep moving around a lot. Every man's DNA is programmed as an ancient hunter, and he is especially alert to movement. So keep active, moving with quiet confidence and pride that you are a woman. Avoid holding your chin in toward your chest as this implies fear and weakness. Stick out your chin and your chest!
Every guy there will wonder what his chances are with you. So keep active, look good, appear available, and let all the guys know you are there. Discretely watch for the guys who appeal to you most. You are going to select the man you want! When you find him, do these steps as if you are the world's greatest actress and your career depends on doing it correctly. This is extremely important!
Here is what you must do:
Catch his attention as he looks around the room and look directly into his eyes with a gentle smile. When your eyes meet, hold the connection a little longer than normally done. Do it definitely longer than when looking at other men!
While looking at him, think these thoughts so your face will be most inviting to him: "Come here big man, I am what you want and I am all yours!" (He might even read your mind!)
Then SLIGHTLY smile, and slowly drop your gaze DOWN to your lap or table.
Researchers have measured the length of the average casual eye contact at about 100 milliseconds. The flirting eye contact lasts at least 150 milliseconds. Amazingly it is done unconsciously and very accurately.
It is important to understand the strong message you send when you hold your gaze for longer than normal, then break eye contact and look DOWN. You are saying in powerful body language: "I am interested in you! I will not resist you! You may approach me! I am waiting for you!" I wonder how many men have fallen for that women's trick over the past million years?
While you wait for him to approach you, immediately re-adjust your body to sit up straight and more directly face him with your arms not crossed in front of you. Actually what you are doing is ancient but effective feminine flirting body language: That will not go unnoticed because his hormones will kick-in and he will feel unconsciously attracted to you more! Just sit quietly, look down, and wait. This ancient and powerful feminine body language signal is important for the guy to see. He is unconsciously looking for this ancient invitation posture because he has great fear of being rejected in front of everyone there. If he has not come over to you in 10 - 15 seconds, coyly look back. He probably is working up his courage. This time your 'actress look' and your mental thoughts are going to be saying, "I don't understand why you are not coming to approach me. I want to meet you!" Thinking these words will help to automatically form the correct look on your face. Use body language with slightly raised eye brows and a little tilt of your head. Your head tilted to the side indicates interest and a desire to understand. (Pets do this and humans love them for it!) If he is brave enough to still show interest by looking back and not breaking eye contact, increase your smile and drop your gaze down again and wait for him to approach. If he gets up his courage to approach you, then you are ready to click Step 2 below for the next exciting step.
the second step to stop stealing your husband by another woman
continue to see their steps
Step 2 is to close the physical and emotional distance between you both so you can evaluate him. This is done mostly with body language in two phases:
By him coming physically closer to talk with you.
Both of you gathering personal data and finding common interests while you each evaluate the other.
You unconsciously read his body language as he walks toward you. A woman's DNA is finely tuned for watching every man's body language as he approaches her. Women have had to do this for millions of generations and make quick decisions to stick around or escape! The first and deepest instincts are to watch for signs of danger and possible sexual attack. The decision-making wisdom is in women's genes and they can detect danger a mile away by how a man moves and the look in his face and eyes. So you instinctively watch him walk toward you to see how relaxed, confident and comfortable he is in this social situation. You are unconsciously watching to see if he moves and behaves like the well socialized man is expected to be in your culture and society.
Your DNA is looking for these traits in his body language:
Confidence and cool power as an alpha male.
Posture and smooth movements tell the story. Head up, chest out and gut sucked in, plus no unnecessary arm and head movements are good signs.
Health and aliveness.
Should you two eventually mate, fifty percent of your offspring's chromosomes are going to be his. So his health is very important to your unconscious evaluation of him as a suitable mate.
Alpha maleness.
Clothes, accessories and car may give a clue. Rich is nice, but seldom happens, so stop dreaming. What you really need is someone who is capable of providing well for you and the offspring when you need support.
Socialization.
He should be comfortable and confident in this social setting. It is a sign of maturity and human true alpha maleness.
You observe he has good posture and very few extraneous body movements. It is good that he DOES NOT have a weird personalized strut or walk with arms flailing about and looking around to see who is watching him. It is good that his arms and hands are not in a protective position holding something directly in front of his stomach or chest like a shield. This open body language indicates little fear, honesty and that he is self revealing. It is especially good if he walks directly up to you with a slight smile on his face indicating, "I am friendly. I won't hurt you". His strong direct approach may even stimulate and excite you.
As he walks towards you, look at him from head to toe. If the light is right he can tell from a considerable distance that your eyes are scanning him fully. He likes that, but at that moment he will be mostly worried that you might reject him. So let a welcoming smile SLOWLY fill your face. Your smile will greatly relieve his terror of rejection by you. You will also start his hormones flowing now that he knows you are pleased to see him come closer. By the time he reaches you he will want to be jumping around with excitement like a puppy!
Check him out closely.
Let us assume now that he walks up directly in front of you. Notice if he keeps his social distance or if he invades your personal intimate space and makes you feel invaded. This check of his body language will be important to your analysis of what type of guy he is. Controlling, pushy and manipulative guys move uninvited into your personal space right away. Use caution with these guys and if you can't control them or get them to back-off, escape! You will save yourself a lot of trouble later.
About guys and their 'opening line'.
An 'opening line' is the first comment a guy makes to the woman he approaches. Most guys work hard developing an opening line. There is great fear that they will be rejected and will be made to look like a real loser or worse. This initial approach to a new woman is a terrorizing situation for a guy. At his deepest old brain limbic system level it is all about hunting, survival of his genes and proving himself as a great hunter. He feels like everyone there is watching to see how good of a hunter he is. So he does a couple of things to minimize the damage to his ego if he is not accepted or is publicly chastised for daring to approach! Here is what many guys do with their opening line:
They try to be unique and show that they are not like all the rest of those 'dirty guys'.
They try to be so clever that it impresses you intellectually and guarantees their acceptance.
They try to be humorous so that if their approach to you fails, it will appear to be all in fun and there is no loss and no embarrassment.
They try to impress you with a carefree and even rude approach with an attitude that you are not really important to them. Again, nothing lost to them if you say, "Buzz-off, Buster!"
Some guys try to shock you so you can't even respond. Example: "Nice shoes! Let's f...!" You should escape fast from these vulgar clueless guys!
The uncountable bad opening lines used in the past all attest to the fact that this is an extremely stressful situation for a guy. At this moment the woman has the power to destroy his ego and make him look like the worst kind of loser in front of all the other men and women there. Rejection in front of everyone there is what men fear most when approaching a woman in a public place.
So if he is doing his body language right, as he approaches he will look into your eyes and with a pleasant gentle smile, he will speak to you. No matter what his opening line is, he should essentially say who he is (his name) and that he would like to talk with you. It is a very stressful anxious moment for him until you signal your acceptance of him into your space. He needs reassurance that it is OK for him to approach you, and that he is welcome to talk with you. Don't delay in acknowledging and welcoming him. Repeat his name if he gave it to you. If he did not give you his name, ask him for it and repeat it often. That will make him really pleased and impress him with your interest in him.
Some women take advantage of this stressful moment for a man when he approaches them. They act resistive and indignant, putting him at greater stress and enjoying watching him fumble. Don't be that cruel! You have great power over him, for he is terrified that you are going to reject him in view of everyone and make him look like the worst scumbag-sleazeball on Earth. Make it easy on him and you will be half way there to making a new grateful friend. The first 4 seconds are the most important in making a good lasting impression on him. Welcome him with class and charm!
About shaking hands:
Whether to extend your hand first for a handshake depends on the culture and environment. Recently in the U.S. it has become the custom in social situations for women to follow men's rules in handshaking. That means to make sure your right hand is free to shake hands if he extends his hand. If he doesn't extend his hand, you may extend yours for a handshake, if appropriate. This will make it clear that you consider women and men to be treated and respected equally.
(Depends on where you are here, but this sends a clear strong message that may scare some guys!) So if it is appropriate here, extend your hand for a handshake when you approve of him joining you. His type of hand shake can be an excellent clue for evaluation of him! Here is what to watch for in his handshake:
If he rotates your hand so his hand is over the top of yours (his palm facing down, forcing yours to face up in his) guess how he wants his body to be in relation to yours? This is a very controlling guy and he wants to "jump on your bones" right now. Watch out!
Only the two hands equally vertical shows a sense of equality between you both. If both of you have your hands vertical, then the strength of the grip is most revealing here.
Firm grip-- Has self-confidence. Takes care of self. Sincere.
Weak grip-- Lack of confidence and insecure.
Limp grip and arm-- Wimp. Needs a lot of support to get things done. Looking for a "mother".
Swinging your hand side-to-side, instead of up and down--
Trying to disarm you for manipulation later.
Also watch to see if he makes eye contact and smiles, at least briefly. These are two friendly good signs. You do the same.
If his eyes disconnect immediately looking off to the left or right, he is disinterested (or afraid) in really getting to know you and investing much of his own honest self in you.
Letting him into your space and life.
Hopefully by now you have read enough of his body language to feel safe. So now you want to find out how interesting he is and if he has interests similar to yours. The talk should now center around data gathering and finding common interests. What you are really interested in, is how you each live your life in order to determine if you two have a good chance for long term compatibility -- or at least some fun together for a short time. That is your interest. Most likely all he is interested in, is how you look naked and how soon he can "climb on your bones". (Guys are wired differently, in case you haven't noticed!)
This communication process is more difficult than it appears, and it is the point where the connection between you both can abruptly break off. This may not be news to you: men don't think like women. Therefore to make the best impression on him (and maybe to even 'get through to him') you need to talk differently to him than you do to your women friends.
Summary so far in Step 2, Using Body Language in Flirting and Dating:
You have gotten his attention, given him a signal that it is safe to approach you and welcomed him into your space. Now you two must do some data gathering and find common ground on which to build a continuing relationship. Your evaluation of him will be based mostly on his body language. He will also be watching your body language, so use it to your advantage in the next steps.
continue to know what they do by their body languages
step 3
Step 3 - Start building the relationship.
"I see you and hear you."
"See me and hear me."
A relationship is starting! Your feminine flirting is getting results. So far he has approached you like a well socialized guy and indicated that he would like to get to know you better. As you watched him approach, you liked his body language and his self-confidence in his walk. His chest was out, his head held erect with a soft smile on his face. He is clean and appropriately dressed. You know it took courage to approach you because at any moment you could reject and embarrass him. You like his courage and confidence to take a risk and come talk to you! You especially like that he selected you to approach over all the other women there.
You understand that deep in your DNA is a need for a strong male to help you complete your biological destiny -- even though for now all you are interested in is making a new friend. So on your list of priorities in a man, at the top is a good relationship with an "alpha male" in good health. The researchers call that particular masculine flare "alpha male" or "male dominance status". To you it simply means that you want someone who is capable of taking care of himself and you in a mature, well-socialized and confident way. Alpha males see what they want and they confidently go after it and get it. And in this case, his target is you and you really like that!
Let him into your personal space a little at a time and watch him.
Now that he is closer, you can read his body language much better and even watch his eyes and facial expressions change. These subtle body language cues will give you a lot more information about him. You can watch his body language cues closely as the conversation centers around what areas of interests you two have in common. Watch if he creeps uninvited into your personal space closer and closer. Not good if he does. Escape when you can.
Men define themselves and their personal worth in the world mostly by their job or career. That is coming from their old-brain and is their hunter-superiority (i.e. ego) being expressed. So let him brag about his job and imagined importance. It may reveal how inferior and insecure he really feels. And besides, he will think he is impressing you with his importance. Just listen, nod, and learn a lot about his true value to you as a possible mate. But don't believe a word he says. He is just telling "hunting stories" and strutting like a peacock doing his mating dance. This is just common male ancient behavior coming from male DNA. The more educated and socialized a man is, the less it occurs.
Women are more interested in how a man understands and treats them. Deep in women's limbic system part of the old brain there is always these questions about every new man:
"Is he willing and capable of taking care of me and the kids when we need him?"
"Does he have the skill and resources to make a good life for us?"
"Will he hang around after he gets what he wants?"
These questions will never be asked openly, but they are there in the woman's subconscious mind every minute of the relationship. In women's DNA there is a high priority placed on the quality of all relationships.
How honest and open you are with each other will determine how fast you close the emotional and physical space between you both. Let's assume that the friendly talk continues in a socialized way between you two. The discussion now progressively brings you both emotionally closer. You will feel more comfortable with him if you observe him doing these things:
He seems to really listen to you.
He doesn't try to impress you by dominating the conversation.
He looks into your eyes as you speak and doesn't glance around the room at the other women.
He even gives a little head nod and a verbal "uh huh" as he validates your statements.
If you see him doing these things above, that is pretty exceptional because, compared to women, men tend to dominate the conversation, interrupt more, speak half as many words a day, make less eye contact, do teasing to show interest, and are more sarcastic and argumentative. Hopefully, this guy doesn't seem too bad in these areas.
While you two talk, you watch his eyes to see if his eye pupils (the center dark clear area) change size. Eye pupils will dilate (open larger) when people are interested or like you. The pupils constrict (close more) when looking at someone uninteresting or someone disliked. Much enlarged pupils unconsciously signal sexual interest! Watch his eye pupils. If they are large like these, you are doing great! Keep up the good work.
Is he 'in tune' with you?
When two people are disinterested or not well attuned to each other, their bodies sit or stand at angles to each other. At the right, notice that the man is facing her directly, slightly leaning toward her and has uncrossed legs. On the other hand, she is turned slightly away, legs are crossed and she is sitting back as far as the chair allows.
When two people are feeling comfortable with each other, interested and well attuned, they will unconsciously re-organize how they are sitting to more directly face and mirror each other. Notice how these two at the right are mirroring each other. If truly attentive to each other, when one changes position the other will do like wise and unconsciously match the other's body position. This action is called "mirroring".
In this scene with the guy who approached you, check to see if the two of you are doing mirroring. Change your body position and see if he follows. If so, then for sure you are ready to move on to step 4.
Summary so far in Step 3, Using Women's Body Language in Flirting and Dating:
You have accepted him into your space and he has acted well socialized. He talks and listens to you with interest and respect. He seems to appreciate a quality relationship. You both have found some common ground that you can share and use to further an on-going relationship. There are possibilities for future activities together in some of your shared interests. You have decided not to reject him and to further the flirting to the next step in this developing relationship.
you don't want to continue as the following steps is the end and you already lost him so i will not continue
learnbodylanguage.org/
نور محمد عبد السلام

اميره برونزيه


رقم عضويتك

: 1203

---

عدد المساهمات

: 1278

---

الاوسمه

:

جميل اوي الكتاب والكلام اللي فيه رائع جدا
يارب يخليكي ياكليوباترا وتسلم ايدك
كليوباترا

ملكه المنتدى


رقم عضويتك

: 1

---

عدد المساهمات

: 84033

---

الاوسمه

:


العمل/الترفيه

: طبيبه اسنان

العفو يا قمر فتحىتى نفسي بمرورك ربنا يخليكى يا قمر
صلاحيات هذا المنتدى:
لاتستطيع
الرد على المواضيع في هذا المنتدى